Furic Solutions
Chiffres clés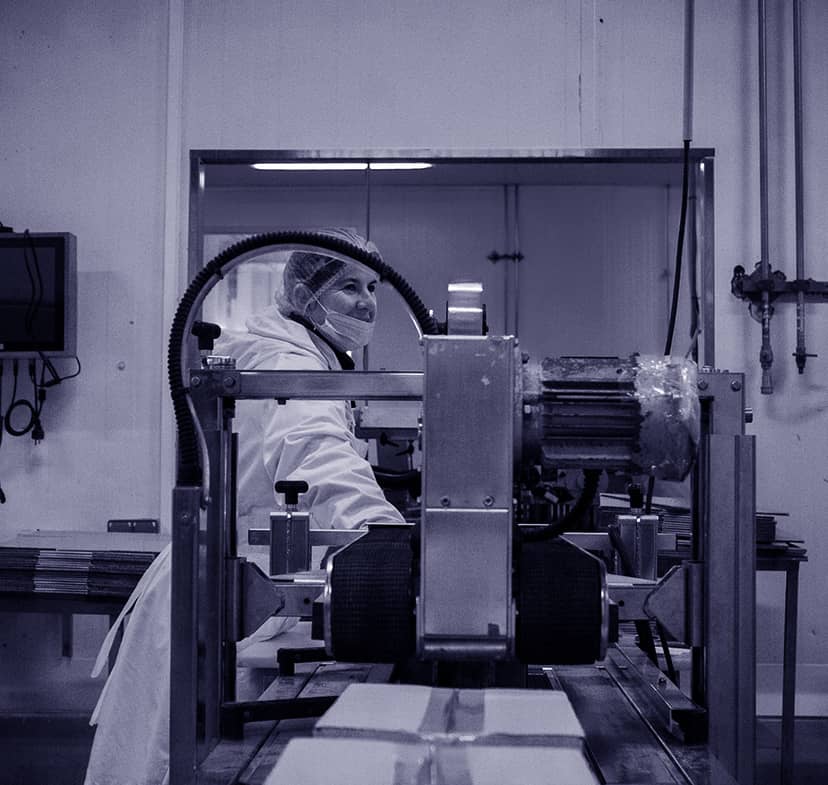 25
processing unit workers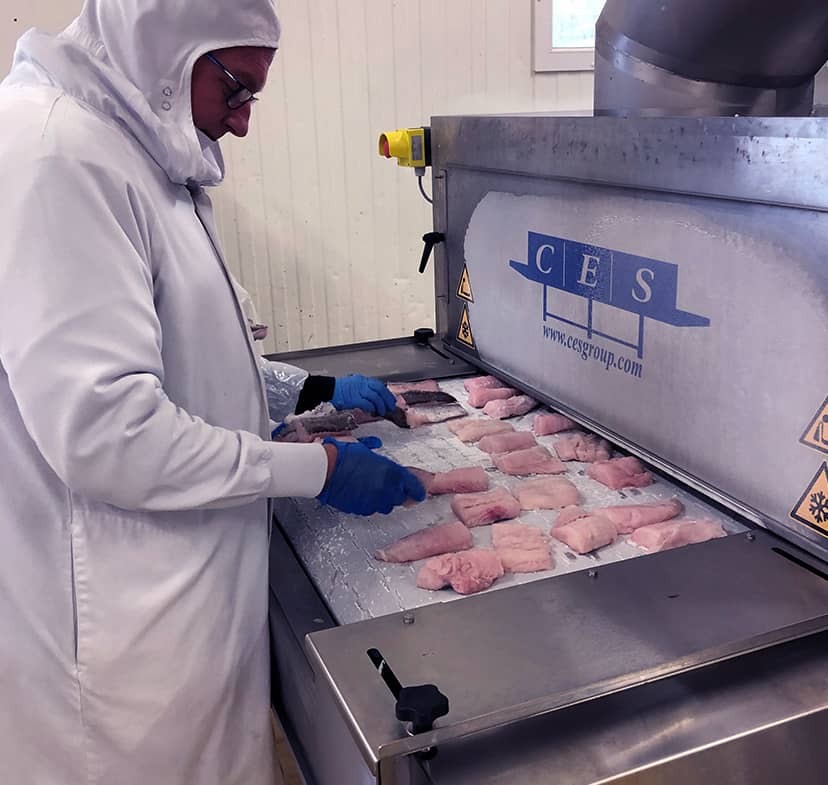 Furic Solutions is a company that produces and sells fresh, frozen and cooked seafood products.
Furic Solutions is based in the heart of Saint Guénolé, the largest sardine port in France and seventh largest fresh landed catch port. At our processing units, you can enjoy the sight of sardine boats returning at dawn or watch the 4.30 pm landing.
Furic Solutions has a 2,800 sqm unit for several processes:
Cooking shellfish and crustaceans such as langoustines, brown crabs, lobsters and whelks.
Freezing IQF portions, fillets and whole fish, mainly Pavillon France species such as monkfish, skate, hake, haddock, saithe, whiting, Atlantic pollock, white ling, cuttlefish, squid, whelk and langoustine.
Packaging fish, shellfish and crustaceans in vacuum-sealed or modified atmosphere trays for self-service sections.
Our processing unit was refurbished in 2018 and meets all health and hygiene (hygiene airlock, boot bath, etc.) and process (forward flow, equipment, traceability, etc.) requirements.
Our cooking unit has modern equipment for traditional fresh water cooking, which delivers high quality finished products, and packaging in traditional polystyrene boxes or plastic trays with top seal films and modified atmosphere. There is also a processing unit with a saltwater cooking tunnel.
Our frozen processing unit has a nitrogen freezing tunnel. This freezing technique preserves the full sensory qualities of our products.
A testing laboratory performs daily microbiological and biochemical analyses, and a designated in-house tasting panel guarantees the sensory quality of our products.
Furic Solutions
Espèces phares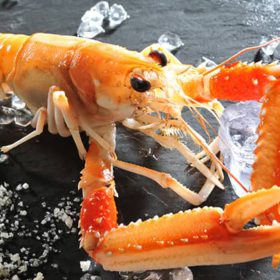 Langoustine
Langoustines are crustaceans sold cooked or live to show their freshness and are landed at fishing ports along Brittany's coast. They are crustaceans in the shape and size of a large crayfish, caught on muddy sea beds off the Atlantic coast.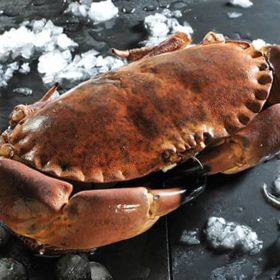 Brown crab
Brown crab is a crustacean with a delicious, melt-in-the-mouth flesh. It is caught by Brittany vessels in the open seas using pots.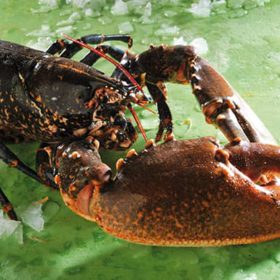 Lobster
Lobster is a crustacean caught in pots along our Brittany coastlines. This crustacean has plump, firm flesh of exceptional quality. You are guaranteed a luxury product with natural flavour.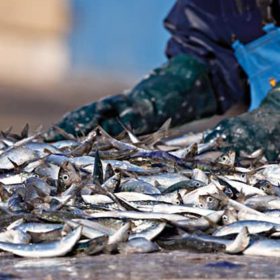 Sardine
Sardines are fresh, whole fish from Brittany. They are deemed 'fatty' fish and live in dense schools in deep waters, migrating from the ocean to the coast in summer and back out to sea in winter. They are fished by sardine boats at night.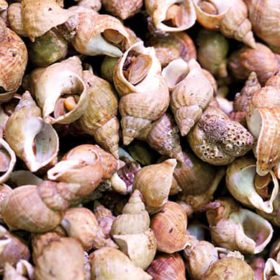 Whelk
Whelk have a greenish spindle-shaped spiral shell with no spikes and is enjoyed for its flesh and flavour. It can be found almost year-round.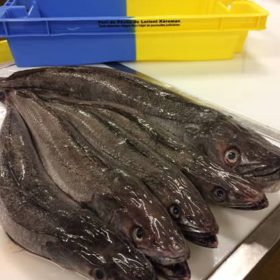 Hake
Hake is one of the most caught white fish species in Europe. It is found along the French coasts and landed fresh. Hake has a unique flavour and texture and can be found in markets and shops year-round. This specialty of the Lorient region is enjoyed for its firm, white flesh.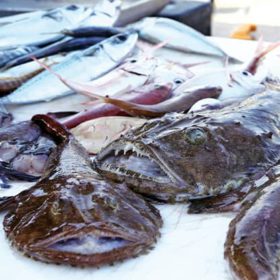 Monkfish
Monkfish have a large, flat head with fine, firm, lean, compressed, bone-free white flesh. It is an iconic species of Brittany's fisheries.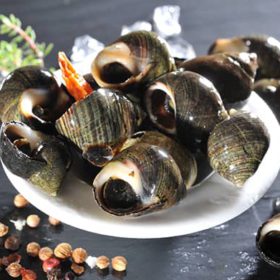 Periwinkle
Periwinkles are shellfish with a soft body and spiral shell. These shellfish Warty venus are often eaten as pre-dinner snacks in large quantities.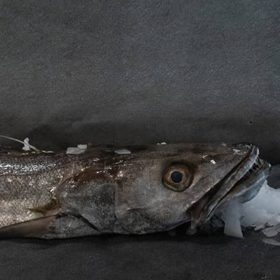 White ling
White ling is a fish with firm white flesh and is most often displayed as long folded fillets. Its slender body is flanked by a dorsal fin in two parts: a short one by the head and a long one extending towards the tail. White ling is a wonderfully digestible fish.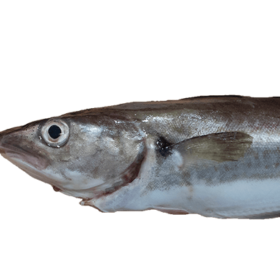 Whiting
Whiting is a glossy, white whole fish with fine, melt-in-the-mouth flesh. Whiting is caught by coastal trawling, with the short time between being netted and being sold at the fish market making it a very fresh product.